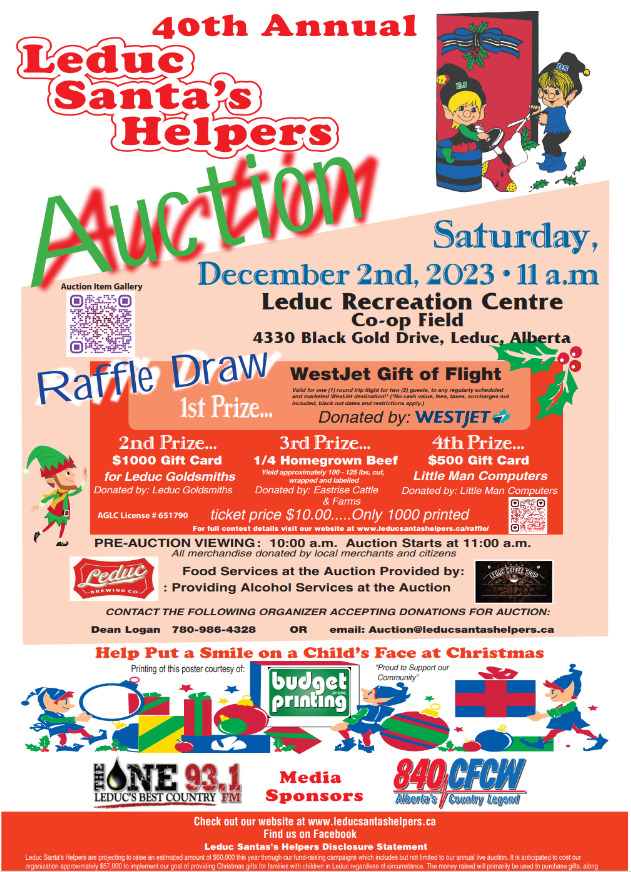 Help Fill a Child's Christmas Wish List
Every year, your generous donations and support of the charity auction give hope to 100's of families in Leduc at Christmas time. And this year, we expect more requests than ever.
Wondering what to donate to provide the greatest impact? Check out our DONATIONS page for ideas and ways to donate gifts or auction items. Click here to locate donation boxes in Leduc
Need a Visit from Santa?
2022 Hamper Registration is now closed.  2023 season will open in November
A Huge Shout Out to All Our Amazing Sponsors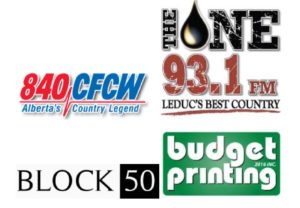 2022 50/50 Winner
Marilyn McGhan
2022 Progressive Draw
| | |
| --- | --- |
| $50 | Cody Goodwin |
| $100 | Kristy O'Hara |
| $150 | John Webb |
| $200 | Gerald Wurban |
| $250 | CIGL |
| $300 | Brandy Cleveland |
| $350 | Darren DeMone |
| $1,000 | Steph Mackney |
2022 Logan Memorial Raffle
Rod Yanish
1st Leduc Scouting
2nd Glance Mitten Tree
5 Blue Process Equipment
840 CFCW
93.1 The ONE
Abaco Drilling Technologies
Adventurer Foundation – Fraserway RV
Alice Embroidery
Andrew Lukawesky
Angies Creations
Auctioneer Orville Schmidt
Baker Hughes
Bayne's Family Chiropractic
Beck's Antiques
Bette Hagen
Beyond Vision
Black Gold Outreach School
BlackJacks Roadhouse
Blain Weidman
Block 50
BMO
Bradley Geddes
Brandt Truck Rigging/CAMEX
Brenntag Canada
Caledonia Park School
Canadian Brewhouse
Canadian Tire Leduc
CanWest
Century Mile Casino
Christ the King High School
City of Leduc
Connie Tarrant
Copper Tip Energy Services Inc.
Costco
D&J Peters
Darlene Knapp
Debra Lelonde
Divine Spine
DK Ford
Doug Reimchen
Dr Bretton Baynes
Drayden Insurance
East Elementary School
Ecole Corinthia Park School
Ecole Leduc Estates School
Ecole Notre Dame School
Edmonton Elks/Eskimos
Edmonton Kubota
Edmonton Smokers & BBQ Supply
EIA Premium Outlet Mall
Evergreen Commercial Products
Ewyn Studio
Extendicare
Father Leduc Catholic School
Financial Services Group
Fitness Center @ LRC
Flaman
Gaetz Agencies
Gail Carstairs
Giant Tiger Leduc
Gille Mittelstadt
Global Pet Foods Leduc
IHG Conference Center
Impact Billboards
Ireton Creamery Inc – Marble Slab
JAK Equipment
Jar'd Merchantile
Jessie Cheetham
Jiffy Lube Sparrow Drive
John Webb
Kathleen Jackson
Kevin Robertson
Keyag Kubota
LA Mazda
LATS
LB Closet
Leduc Barbers
Leduc Black Gold Rodeo
Leduc Co-op
Leduc Elks
Leduc Fire Services
Leduc Fish and Game Assoc.
Leduc Goldsmiths
Leduc Hyundai
Leduc Kinsmen
Leduc Linx
Leduc Physio
Leduc Riggers Junior B Hockey Team
Leduc Wall Fashions
Leduc Wellness Centre
Leo & Gail McDonnell
Lesco Distributors
Linda Tomich
Linsford Park School
Lions Club of Leduc
Lisa Wiebe
Little Man Computers
LJAC U18, U17 & U15 Hockey Teams
Local Meats
Logic NDT Solutions
Lorne & Tina Mix
MacLab Centre for the Performing Arts
Maggies Pizzeria
Marble Slab Leduc
Margaret Lyall
Marlene Tracy
Marshalls EIA Premium Outlet Mall
Medicine Shop
Mel Bandravala
Michels
Millwoods Golf Course/Woodvale Community Facility
Mitch Thomson
MLA Brad Rutherford
MNP
Mobility Equipment Services
Natural Choice Massage
Nuna Logistics Limited
Nutters Bulk & Natural Foods
Oil Country Towing
One Shot Photography
Pat & Cec's Auto Repair Ltd
Paul Oneil
Pauline Dyck
Pet Valu Leduc
Pet-tek Distribution
PJ Trailers
Planet Fitness Leduc
Playing for Keeps
Post Media
Priority Projects Ltd
Quality Floor Coverings Carpet One
RBC
RCMP – Leduc Detachment
REEARTH Corp.
ReMax Leduc
Richard Power
Rotary Club of Nisku Leduc
Royal Lepage
Safe & Lock Solutions Inc.
Salem Manor
Sarah Power
Schlumberger Nisku
Servus Credit Union
Shawn Raymond Training
St. Benedicts School
Star of the West Lodge #34
Starbucks 47th St
Steve Newsome , DRC Music, Righand & Phat Tonys
Stewart Wringe
Township Family Dental
Tri-Bit Services
True Touch Massage
Turbine-X Energy Inc.
UFA
Urban Vinyl
Van Doesburg Epoxy
Vanessa Engelage
Vulcraft Canada Inc
Walmart Community Grant
Walmart Leduc
West 66 Signs & Designs
West Haven Public School
WestJet
Wilhauk Beef Jerky
Willow Park Physio
Willow Park School
Winners Leduc
Wrangler Rentals
X-Group
Zambelli's
Zulu's Hair Design