36th Annual Santa's Helpers Auction Details
It's Coming! Get Excited!
Venue
Leduc Recreation Centre
4330 Black Gold Drive
Leduc, Alberta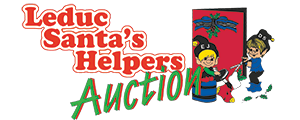 Date
December 07, 2019
Viewing at 10:00am
Auction at 11:00am
Leduc's Favorite Christmas Charity Auction
Santa's Helpers Auction started in 1983 with Earl & Julie Logan and Duane & Sylvia Rowles as a little event among friends to help raise money to buys toys for kids at Christmas.
For more than 35 years, this annual event has been held on the first Saturday in December. Though the venue has changed throughout the years to accommodate our growing supporters, the excitement of the live auction experience remains the same.
With the immense generosity from the businesses and citizens of Leduc, this little event has grown into a full live auction with cash raffles, mini raffles, and other prizes. The auction is our main fundraising event. Without it Leduc Santa's Helpers would not be able to provide the much-needed hampers to our community at Christmas.
Every year we rely on the community to donate new items to be auctioned off at our live auction. If you would like to donate a new item for auction please contact us @ auction@leducsantashelpers.ca. Items must be received by NOVEMBER 30, 2019.