AGM 2019
Tuesday, April 9th, @ 6:30pm
Leduc Civic Centre
1 Alexandra Park, Leduc AB
East Railway Room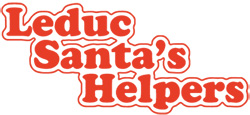 Leduc Santa's Helpers is a needs-based organization:
Which provides toys and food for Leduc families with Children.
Raffle Tickets
1st prize WestJet tickets – Lila Pearson
2nd prize Coop GCs – S. Anderson
3rd prize Rig Hand – Andrea Dean
Progressive Draw
1st Donna Wright
25-$50.00 Rita Wilhauk
50- $100. Shane O'Connor
75- $150. Mabel Boyce
100 – $200. Kim Logan
125 – $250. Marg Oleksiw
150 -$300. Laurel McTavish
175 -$$350. Tim Auger
200 -$1000. Warren Gaetz
Logan Memorial Raffle
Katie Chernyk

Help Fill a Child's Christmas Wish List
Every year, your generous donations and support of the charity auction give hope to 100's of families in Leduc at Christmas time. And this year, we expect more requests than ever.
Wondering what to donate to provide the greatest impact? Check out our DONATIONS page for ideas and ways to donate gifts or auction items. Click here to locate donation boxes in Leduc
Need a Visit from Santa?
Registration For 2018, November 14-December 14. Every family needing assistance needs to register yearly.
Register now, call 780-986-4800
Hamper Registrations Dates
Families needing assistance must register yearly.  The registration deadline for 2018 is December 14.
Call 780-986-4800 to register.
For ALL other inquires you can send us a message from our contact page.
Leduc Santa's Helpers Auction Countdown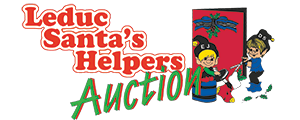 Help Us Meet Our 2018 Fundraising Goal
Santa's Helpers Auction started in 1983 with Earl & Julie Logan and their good friends Duane & Sylvia Rowles as a little event among friends to help raise money to buy toys for kids at Christmas. With the immense generosity from the citizens of Leduc this little event has grown into a full live auction with cash raffles, mini raffles and other great prizes. The auction is our main fundraising event. Without it Leduc Santa's Helpers would not be able to provide these much needed hampers to our community at Christmas.
Some of Our Awesome Auction Items from 2018
A Huge Shout Out to All Our Amazing Sponsors